Time flies, doesn't it? For many of us, the older we get, the faster time seems to go. Retirement approaches before many people even realize the previous phase of their lives is drawing to an end. That leaves quite a few with inadequate funds to forge through their retirement years. On top of that, rising inflation lowers the value of the money that has been saved. In fact, some reports show that nearly half of Americans aren't financially prepared for retirement. Though the majority of people say they think they're saving enough to live comfortably later on, most find that they were sorely mistaken when the time actually arrives.
Because of all that, planning well ahead for retirement is the key to success. That means saving and investing in just the right ways to stockpile enough assets to make it through the retirement years. Regal Assets claims to help with that. They want to aid investors in creating alternative assets retirement portfolios via precious metals and cryptocurrencies IRAs, and other options. They happen to specialize in retirement accounts. If you're among the millions of Americans who may not be saving enough for retirement or are simply interested in diversifying your portfolio, our review of Regal Assets could be the answer you've been looking for. Keep reading this Regal Assets review for more information.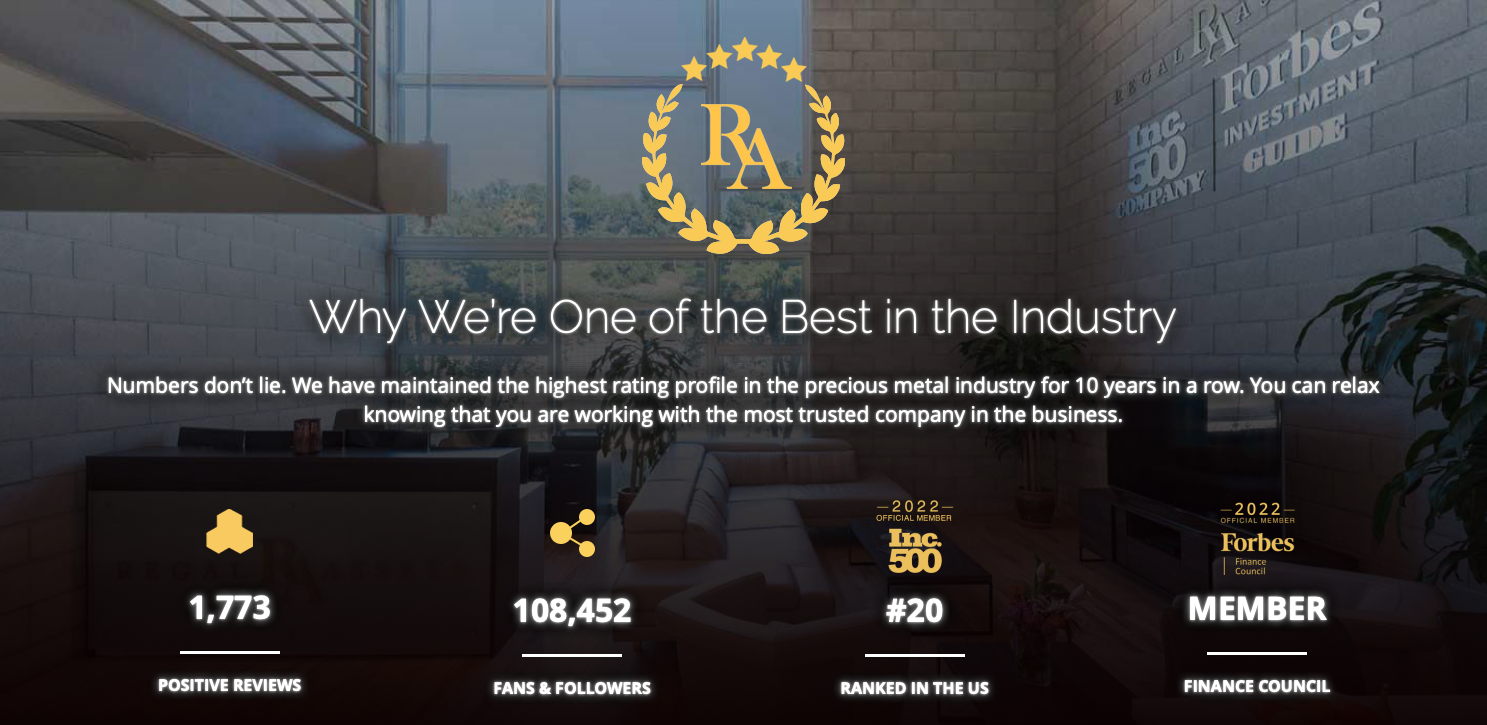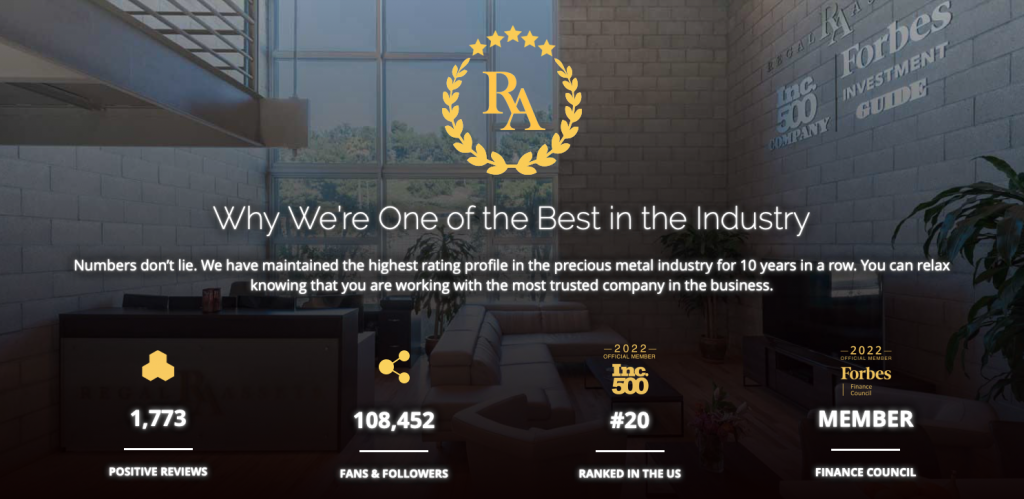 A Brief Overview of Regal Assets reviews
As is the case with many businesses, Regal Assets started off on a small scale, helping clients set up their own investment accounts and choose the right options for their portfolios based on their unique needs. Over time, founder Tyler Gallagher expanded the company to entirely new heights. At this point, Regal Assets has gone global, with offices in the United States, Canada, Europe, and Dubai. Regal Assets offers an array of investment solutions for clients with its focus being on precious metals and cryptocurrencies. It also caters to collectors.
On last report, Regal Assets held a AAA rating with the Business Consumer Alliance, which is the highest possible rating available from this organization. It also boasts a A+ with the Better Business Bureau. BirdEye reviews give the company 4.9 out of 5 stars, and TrustLink reviewers have granted it 4.6 out of 5 stars. High ratings have been generated on other consumer advocate sites as well.
Taking a Closer Look at Regal Assets' Investment Options
That being said, let's take a closer look at what else Regal Assets offers. As mentioned, cryptocurrencies and crypto IRAs are available via the company. Right now, clients have access to 20 cryptocurrencies, but new options are continually being added. Those interested in anything from Bitcoin to Stellar and beyond will find what they're looking for in the company's listings. For crypto accounts, the minimum investment amount is $5,000. Such accounts are insured for up to $2 million by Lloyd's of London.
Precious metal accounts also come with a $5,000 minimum. Gold, silver, platinum, and palladium are available for other precious metals investors. Several types of gold coins are offered, including the Canadian Maple Leaf, Chinese Panda, Austrian Philharmonic, American Eagle and Buffalo, Gold Britannia, and South African Krugerrand. Gold bars are likewise offered in a variety of weights.

In terms of silver, American Eagle, Australian Kookaburra and Koala, Austrian Philharmonic, Canadian Maple Leaf, and Silver Britannia coins are available along with 10- and 100-ounce bars. Those interested in palladium may choose from among 1- and 10-ounce bars and Canadian Maple Leaf coins. Though platinum bars are not available, American Eagle, Australian Koala, and Canadian Maple Leaf coins made of this rare and valuable metal are offered.

Clients may purchase precious metals and coins to keep in their own personal stockpiles or have them placed in a Regal Assets IRA. Keep in mind, strict governmental regulations apply to precious metals and gold IRA companies. Rather than being allowed to hold those assets at home, investors must keep them stored in an approved facility. Regal Assets provides compliant precious metals storage for those assets and welcomes clients to visit the facility in person to view their holdings. Precious metals purchases are generally completed within seven days, though exceptions may apply.
Exploring the Costs of Investing through Regal Assets
As noted, clients are required to invest at least $5,000 if a cash deal for precious metals and/or cryptocurrencies through Regal Assets' website. Fees for purchases and account maintenance apply. For a crypto IRA, the transaction fee is one percent with an added one percent storage fee per year. Precious metals IRAs come with annual $100 administrative fees as well as a $150 fee for segregated storage of your precious metals.
Additional costs may apply depending on the type of account you choose and other factors. Those interested are invited to contact the company for price quotes and other information. Any Regal Assets fees that are applicable will be explained in advance and included in the quote. There are no Regal Assets charges of extra fees for clients selling precious metals from their IRAs. Investors are advised to be sure they understand all the fees potentially involved before setting up their accounts.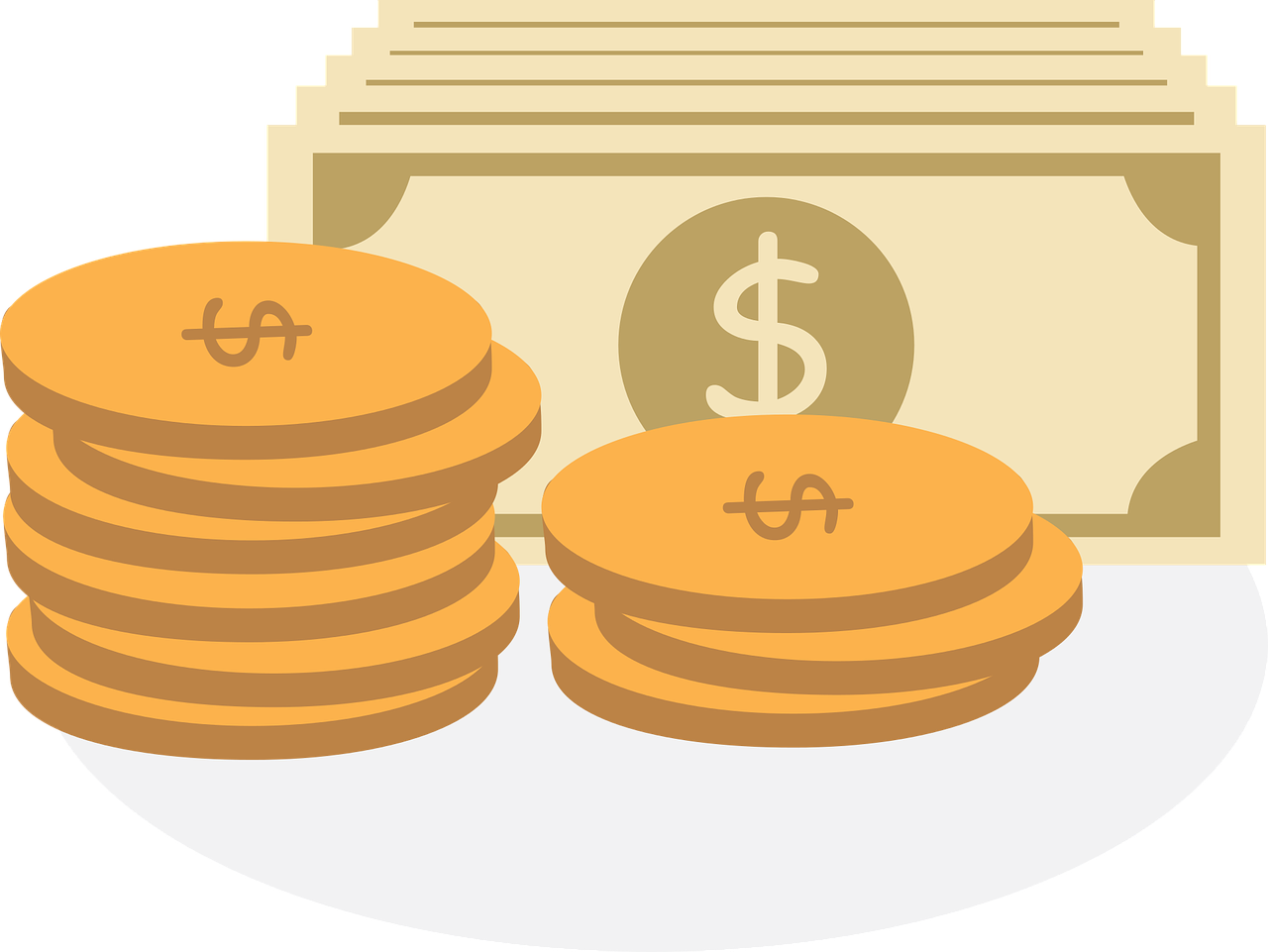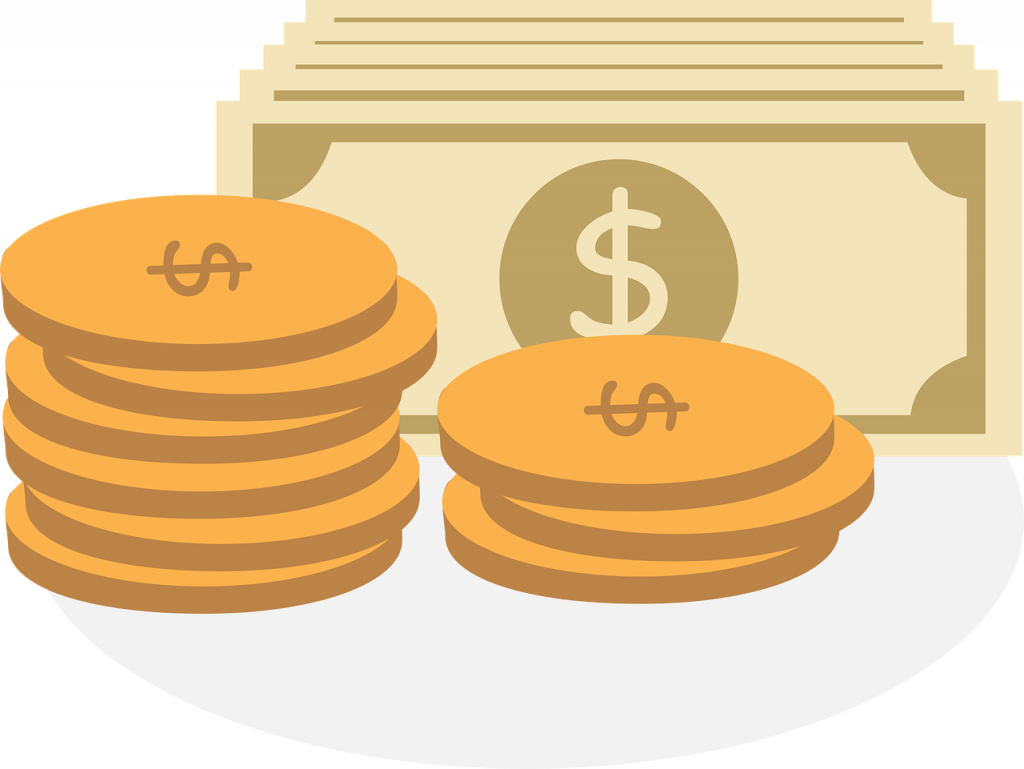 Covering Frequently Asked Questions from Clients and Prospects
With so many people considering precious metals IRAs, and an ever-growing number of consumers gaining interest in cryptocurrencies, numerous questions have arisen on those matters. At the same time, quite a few potential investors have questions about Regal Assets specifically. After all, it's important to learn as much as possible about a company before investing your money in its products and services. We'll try to answer some of the most commonly asked questions about Regal Assets right now.
Does Regal Assets Offer Portfolio Management Services?
At present, Regal Assets doesn't manage clients' portfolios on their behalves. They focus solely on allowing account holders to purchase and sell precious metals and cryptocurrency IRAs. However, representatives of the company can refer clients to trustees, account custodians, and other professionals for outside assistance.
How Do I Create an Account with Regal Assets?
Creating a Regal Assets account is fairly simple. Start by clicking on the "open account" button located near the top right corner of the company's homepage. Then, you'll fill out the form provided, entering your name and additional contact information per the company's request. From there, you can follow the provided prompts to proceed through the necessary steps. Alternatively, you can call the company and request assistance from one of its representatives.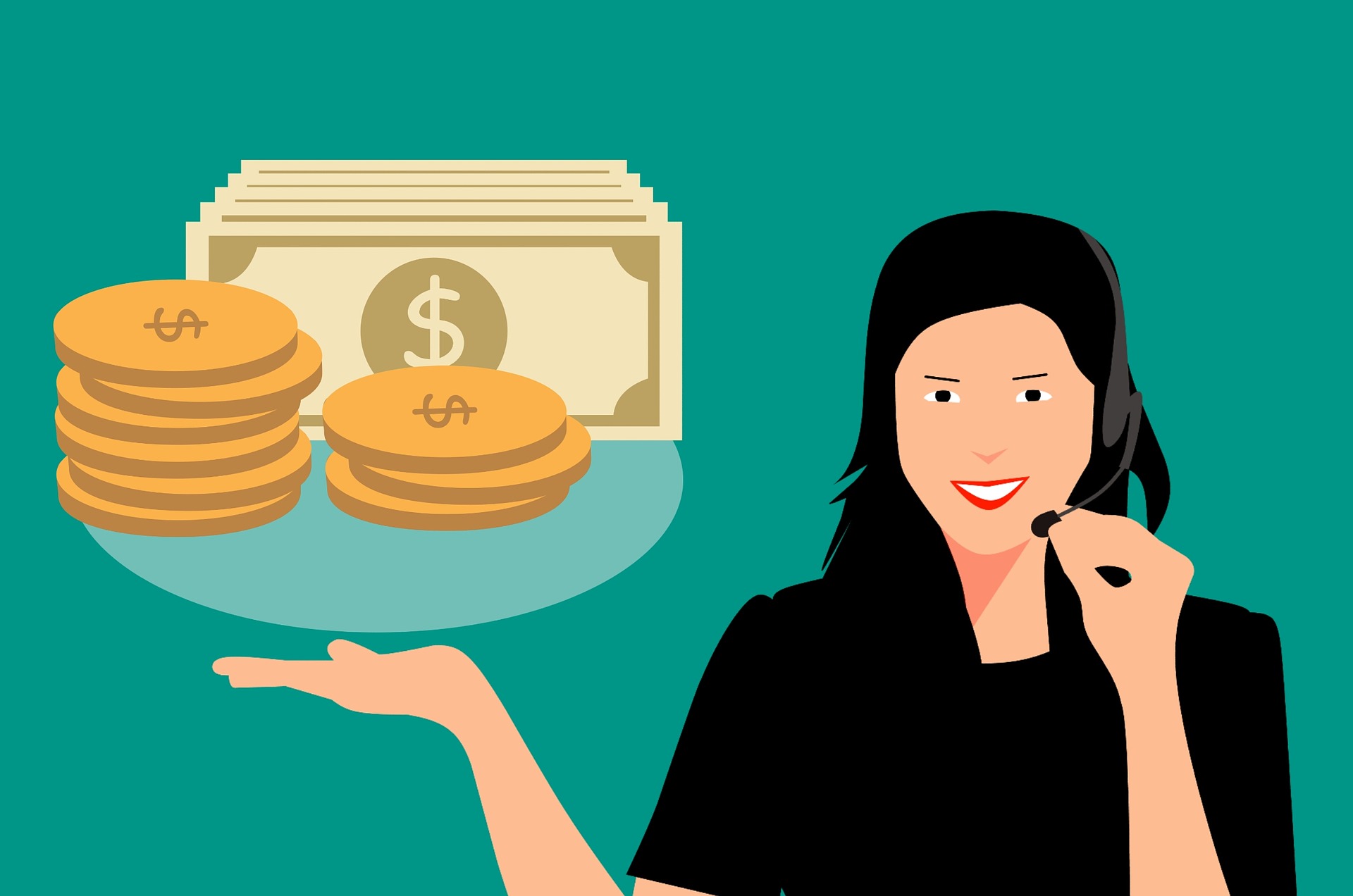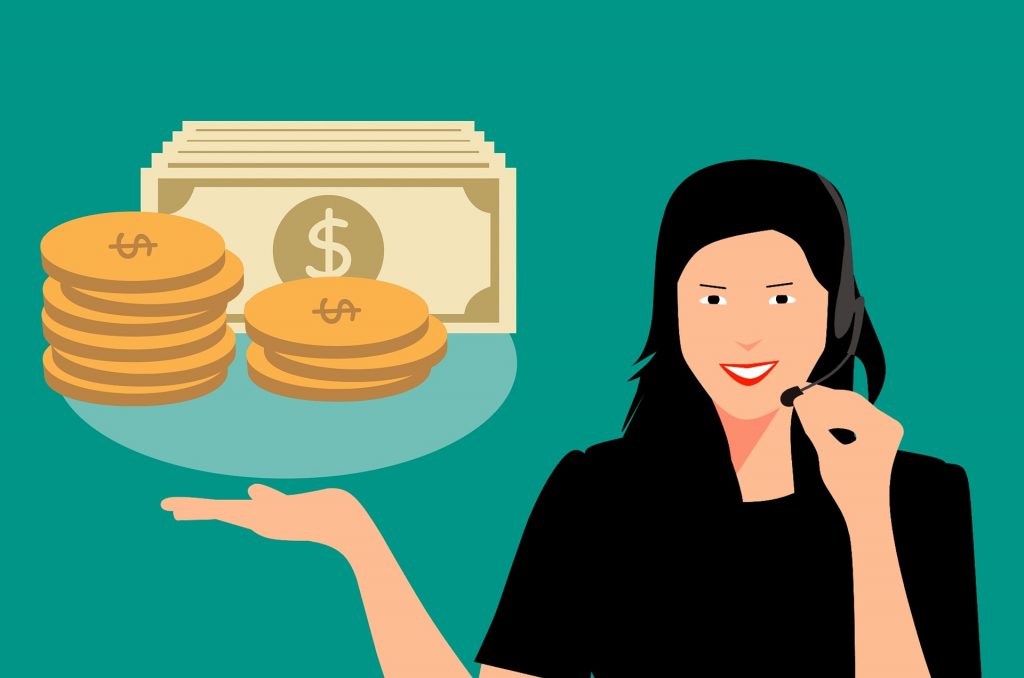 Can I Speak with an Investment Advisor through Regal Assets?
No, they do not have an in-house Regal Assets team of investment advisors for client consultations. Experts with the company can provide education and advice for clients to help them choose the assets that are most appropriate for their investment needs. From there, their highly trained and experienced account executives make trades on behalf of clients.
Can I Purchase Precious Metals Outside of an IRA through Regal Assets?
Yes, you can purchase precious metals outside of an IRA through Regal Assets. While Regal Assets offers precious metals IRAs, the company also gives clients the option of purchasing precious metals outside of such accounts. In those instances, the company will ship the coins, bars, or bullion to clients to do with as they please. From there, clients can store their precious metals in safe deposit boxes, home safes, or elsewhere, like we discuss in our Goldco review. Shipments like these are fully insured until they reach clients' hands.
Can I Transfer Other Accounts to Regal Assets?
Yes, clients may transfer certain types of accounts into Regal Assets IRAs. These include 401(k)s, 403(b)s, thrift savings plans, simplified employee pension plans, and others. Funds can also be rolled over from outside IRAs to crypto and precious metals IRAs with the company. Representatives are available to assist with this if needed.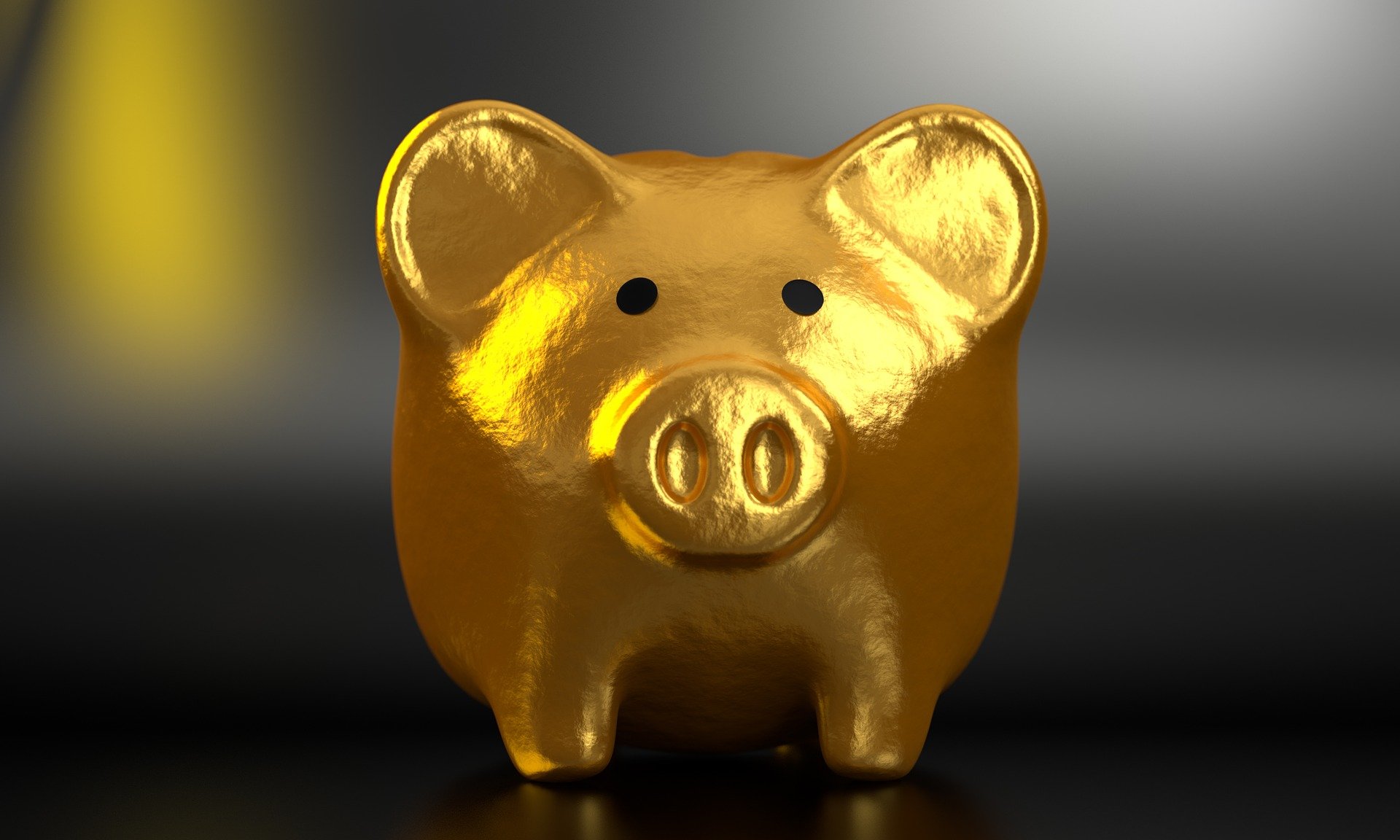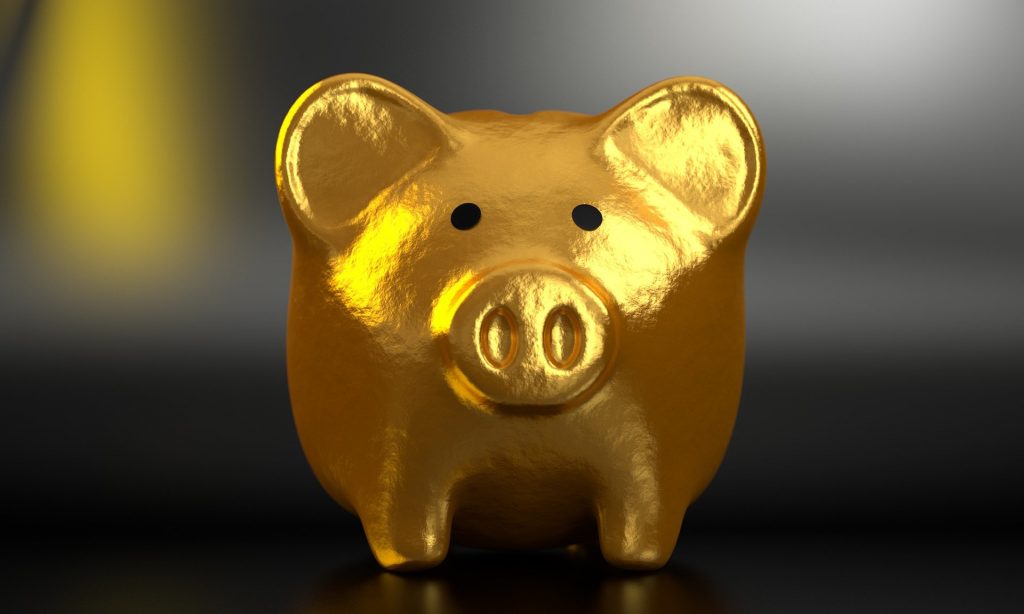 How Can I Keep Track of My Regal Assets Account?
Once you create an account with Regal Assets, a representative of the company can provide further details about logging into your online account and keeping track of your assets as they grow.
Overall Benefits and Disadvantages of Investing with Regal Assets
Regal Assets comes highly rated with numerous satisfied clients currently turning to the company for their alternative investments. Account executives are readily available to help people choose the right cryptocurrencies and precious metals to meld with their investment needs and expectations. Additional resources are also provided to educate investors on those assets. On top of that, Regal Assets offers an extensive selection of cryptos and precious metals for clients to choose from.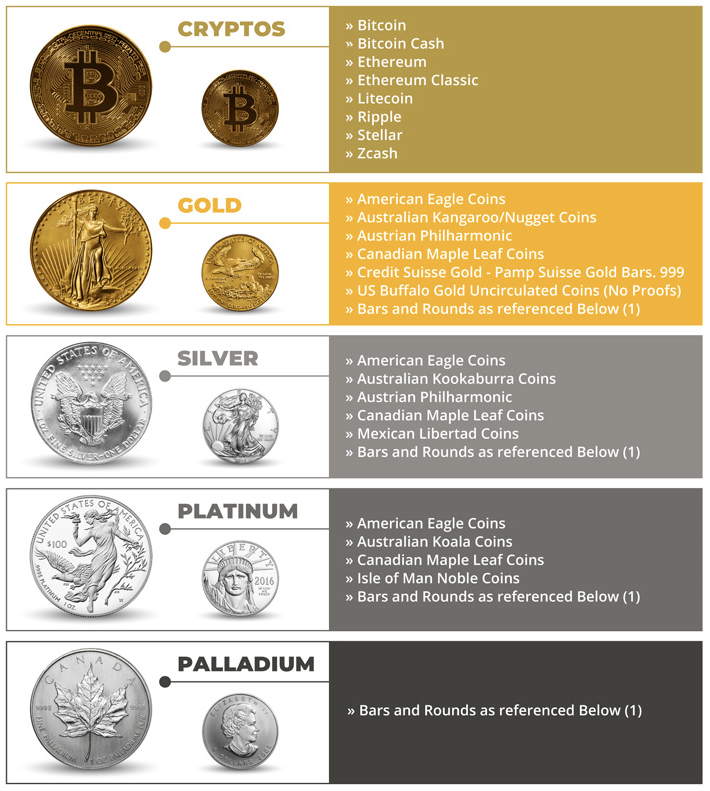 When investing with Regal Assets, clients can choose to invest in IRAs or purchase precious metals in various forms to store on their own for future use. They can also purchase different combinations of those assets to foster their investment and retirement planning goals. Clients can sell their precious metals through the company at no additional cost as well. Clients also tout the company's low, flat-rate fees for account handling and precious metals storage. Insurance coverage for clients' cryptocurrency IRAs in the event of fraud can't be overlooked, either.
On the downside, some clients say that the company needs to ramp up its communication efforts regarding their portfolio performance. Some also point out that learning about additional fees that could apply to their accounts requires a bit of digging. Aside from those aspects, clients have few complaints about the company and its products and services.